Opened: October 2018 - There are 12342 members
Presented By
Phylis Tanksley
"NEW WORLD" SURFER
VERY EASY TO SURF FOR TRAFFIC
GET FREE BANNER VIEWS AND
VISITS WITH EVERY CLICK
Get 500 free hits on your websites!
~ Ends on October 31st ~
WANT MORE INFO?
This is a very easy - and a fast surfer.
You visit a website, click one of the cherries to open and get something every time.



THIS IS WHAT IT LOOKS LIKE BELOW





Desktop Surf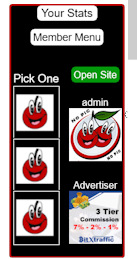 Mobile Surf


You always get 0.5, 0.75 or 1 full credit towards getting a visit to your own websites.

As you do this, you always get a banner credit too.


You'll see that both site & banner credits rack up very quickly, it's really that simple!
This also has a weekly draw for visiting sites, plus a daily draw for visiting sites.
All websites get 2nd chance advertising as they show in a left hand side panel in previously visited.
Also get an advanced FREE rotator with detailed tracking stats.
This rotator is special, as you use it, you gain FREE UPGRADES & ADVERTISING on other sites.
This website is GUARANTEED to last at least 10+ years.
© Webstars2k Advertising Network
100% custom website created and owned by Maryanne Myers
[PHP Programmer + Internet Marketer + Web Designer + Advertising Network Owner]
Owner has longterm, verifiable 21 year history of owning an online business
MEMBER

LOGIN
POLICIES
TERMS
CONTACT